ANNOUNCEMENTS
WE DID IT!









The Diosa Recital was a big success! Thanks to the efforts of our performers, volunteers and their loved ones our

3rd ANNUAL FUNDRAISER SHOWCASE

was able to raise $1,500 for

Voices Against Violence

at the show! And the donations are still coming in!



And our neighbors are hearing about it!



The fantastic community newspaper,

Framingham Patch

attended and wrote up a very positive report including pictures and video from the event. Read The Framingham Patch article here.



Access Framingham TV

, the local cable station was also at the event, taking information in for their news report later this week!

To date, donations are approaching $1,700 and counting! With these funds families trapped in domestic violence can have access to emergency care, support groups, legal advice, and relocation service in order to break the cycle of violence and start again. None of this could have happened without the kind-hearted efforts of the wonderful students at Diosa! THANK YOU


NEW CLASS! NEW INSTRUCTOR!

CARDIO HIP HOP CLASS!

THURSDAY NIGHTS AT 6:30

we're featuring a new class with,

Amanda Albert

who brings you a- fun, upbeat, high-paced fitness class where you will work every part of your body while having fun. It is fitness that feels like dance! It starts out with cardio warmups focusing on specific parts of your body and continues to teach you a hip hop routine to your favorite current songs. This class is structured to offer an intense cardiovascular workout in addition to teaching basic Hip Hop movements and technique. It is ideal for students looking to tone muscles, achieve weight loss and/or increase stamina, all while indulging in a fun-filled dance activity that avoids the monotony of traditional cardio training.

Amanda

is a student of Communications at UMass Amherst and has been dancing for the past 17 years. She studied ballet, jazz, tap, pointe, and hip hop at Annemarie's Dance Centre in Ashland and is currently on the Stage Crew Dance Team at U Mass where she has choreographed two dances the group performed at local showcases. She is excited to join Diosa and bring her love of fitness and dance to others. Check out her last set of students on the video clip on the side bar -->



MAUREEN MCANULTY! is an experienced dance instructor who began her own instruction at a young age with the Dancing Arts Center in the very dance studio where Diosa now resides today! And that was just the beginning. Her dedication to her craft took her to New York where she had the opportunity to attend classes at the Broadway Dance Center, The Ailey School and the Martha Graham School of Contemporary Dance. She has performed in numerous productions of musicals in and around Boston including Cats and Grease and has studied at well-known Boston schools of dance including The Dance Complex and The Jeannette Neil Dance Studio. She has also trained in classical ballet with Silvia Silverman and Edra Toth of the Boston Ballet and Jonathan Towle and Liz Lapuh of the Cambridge Chamber Ballet. Finally, as a certified yoga instructor, Maureen can bring together many disciplines to integrate the spirit and mind into practice.



Visit the online store now!
CHECK THE SCHEDULE! More pole classes, flexibility classes and other specialty classes are being worked into the schedule as I write. Travel schedules are affecting class schedule. If you are not signed up for class we cannot contact you to let you know of scheduling changes during this very moveable season! Please check the schedule and sign up for classes!
| | |
| --- | --- |
| | You asked for it, you got it, Pilates and Chair Dance return to the schedule this week. Ffor you early birds, there is a Pilates class on Saturday mornings at 8am with me, and Jenna teaches on Monday nights. Thursday nights at 7 you can forget repetitions and concentrate on learning routines while working out your abs and core. We're still adding classes so be sure to CHECK THE ONLINE SCHEDULE, for the most current schedule. |
DIOSA RECITAL - JUNE 19th - 7pm! Fundraiser for Voices Against Violence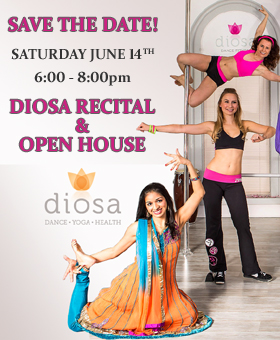 Diosa is three years old and Paulina turned 50, so this past year has given us plenty of reason to celebrate. We have new instructors and loads of new students this year, all of whom have something to share.
Please come and celebrate our achievements and support our community. There will be performances in Bellydance, Burlesque, Chair Dance, and Pole Dance by students and instructors. Food and beverage will be served and donations will be accepted in support of Voices Against Violence.
Please let us know you're coming so we can make sure there is enough space, food and beverage for everyone. Register online to let us know you're coming! And bring your family and friends!



Chair Dance - Thursday Nights!
Diosa is bringing this fun, playful class back just in time to get you looking and feeling your best for summer. Take the 1 hour class with your fellow Diosa members as part of your class package, book a private lesson for you and your girlfriends, or make a party of it for your bachelorette, birthday girl, or recent divorcee! You will never have so much fun doing situps or pushups, and, if you want to, bring those sexy new shoes you just love to wear - we'll put them to good use! Check out this video compilation of last year's chair dance classes and workshops for a taste of the fun you can have at Diosa!
Pole Dance Fitness comes to Diosa!
Think Pole Dancing is a still a stripper thing? THINK AGAIN! There is a new world of fitness and Diosa is here to help you discover it! This week, in honor of Columbus' discovery of the new world, Diosa is offering 50% off our new small group personal training classes in Pole Dance Fitness!
Pole dancing classes are popping up across America, and around the world with hopes of becoming the next Olympic sport. (check out the Wall Street Journal Article) In Europe, kids are getting an edge in gymnastics by augmenting their skills on the Pole (check out 10 year-old Olga Trifonova at the IPSF Competition). Pole dancing is a fun, physically demanding form of exercise that will make you stronger than you ever thought possible. No more endless reps! Burn more calories by developing lean muscle mass with Diosa's personalized training method.
Unlike other pole studios, Diosa's small group personal training provides the individualized attention that will help you get the most out of your training according to your personal needs. And you'll have so much fun, you won't notice the workout until you're done! Diosa's certified trainers have worked with top Cirque de Soleil performers and World Champions in pole. Want to check it out before you commit? Try out the Tripolar 3-class pack for $49 (a $96 value). You can buy it directly through the online store or, if you have a Voucher, contact Paulina at 508-309-3543 to activate your account. KNOW the value of personal training and pole dance fitness? Sign up for the Circe Membership and get unlimited personal training in strength and flexibility for the low price of $99 a month! Columbus day specials available on Columbus day only, so act soon and take advantage of these special offers.
Image Not Found!
Gallery and Videos